Buying new workbenches for your workplace is not something most of us do every day – indeed, get the decision right and you won't need to be buying benches again for a while!
Asking "What is the best workbench for our workshop, warehouse or assembly shop?" reveals there are a number of points to consider. Let's consider the key things to look out for when comparing bench suppliers:
Bench Size:
Probably the first thing to look at is the surface size your work needs. This will depend mostly on the type of processes being done and the materials used.
Assembly and packing benches need to have enough space to lay things out, whilst allowing the worker easy access to tools and components stored across the back. Those working with large format sheet materials such as signwriting media and fabric will need much larger benches, even up to 3m x 1.5m to accommodate 5 ft wide rolls. Rhino manufactures some of the largest workbenches available:
Workbench Standard Sizes:
(Rhino Bench routine Production)
3050 x 1525mm (10 x 5')
2440 x 1220mm (8 x 4')
2000 x 1000mm (2m x 1m)
1500 x 750mm (large desk size)
Needing special sizes or larger workbenches? Rhino manufacture bespoke benches to customer sizes; send your ideal size and quantity for a fast, free quote today
Work Station Shape Layout
Workbenches tend to come in rectangular shapes; and for good reason. However, don't let this restrict your process. If you need a larger, square worktop, then put two rectangular benches together. This is often useful for signwriters, fabric layout and cutting, sail-making etc.
One of the most valuable workstation configurations is the U-Shape. This allows good use of space, and minimises movement of people and goods, bringing greater efficiency and safety. Materials can be loaded from the outside, with processes completed within a compact space.
And as you can see in the diagrams below, it gives flexibility for manual and semi-manual work.
Low-demand; staff can easily work across 2 or more stations, with minimal reaching and travelling: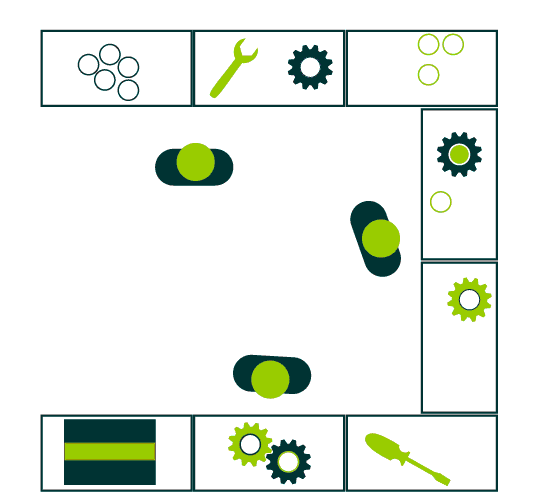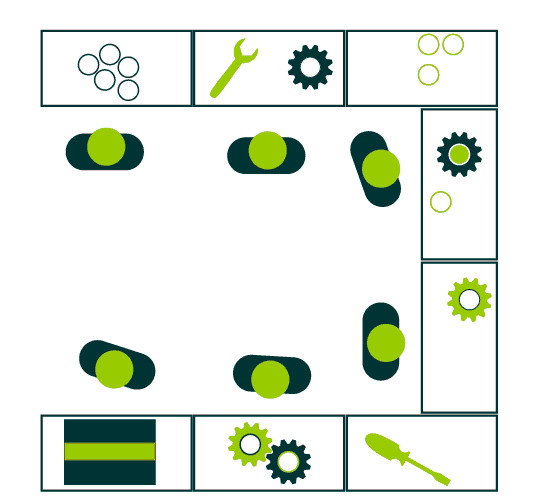 Mobile or Static?
Many metal workbenches come with an option of caster wheels to allow for rapid re-siting of benches. This can be very beneficial for flexible workspaces, maximising the use of space for the project or process. Make sure the wheels on your bench are sturdy, lockable and do not compromise the weight capacity of the unit. Mobile benches can be pulled together or pushed to where the need is, for the ultimate workshop set-up flexibility.
Where there is no need for mobility, a fixed workbench can often give more stability, money-for-money, than a wheeled version. If the same processes are carried out within a space, then a bit of LEAN mapping will determine the best place for the bench to be installed.
Rhino Tip:
Mobile workbenches are ideal for projects like car servicing and restoration, or boat
building. In such 'single-batch' workplaces,it is usually better to bring the
tools and components to the workpiece, rather than move from fixed workstation
to workstation.
Worktop Stability
We mentioned stability, so let's look at this now. Stability has a lot to do with the material type used, the thickness and dimensions of the legs, and the quality of construction. Adjustable levelling feet on Rhino's workbenches compensate for the inevitable lumps and bumps of workshop floors. Engineered timber such as laminated MDF is a popular choice of worksurface as it is anti-warping, firm, and strong. Bolt-together bench frames are suitable for many purposes, whilst welded steel workbenches provide exceptional strength and stability.
Weight Capacity and UDL
UDL stands for Uniformly Distributed Weight and is a term often used for working platforms, shelving, and benches. This refers to the weight capacity that has been certified as a safe maximum for the load-bearing surface. Metal and engineered timber are the most commonly used materials for UDL-rated workbenches as these are both strong and have a predictable performance.
It is important to note the "uniformly distributed" phrase in UDL; whilst a bench is tested safe at 500kg, for example, this must be evenly spread across the surface. It means that the centre of gravity is balanced, with each leg of the table taking its share of the load. Knowing the UDL is essential to being able to accurately access the risk of heavy objects causing a catastrophic collapse.
Choosing a bench that has a higher UDL weight than needed not only provides an important safety margin but will mean the bench will last significantly longer than one 'just good enough'. Remember also that UDL is a static load, so actions like dropping a heavy item onto the bench will cause a dynamic spike in the loading force.
That said, Rhino workbenches come in at 500kg UDL as a minimum, with an 800kg UDL rating on the heavy-duty welded-steel models, giving ample scope for most industrial workbench needs.
Work Surface
Worktop surfaces should be flat, smooth, easy to clean, and resistant to degradation from the tasks performed on them. Are your materials and tools likely to cause scratches, pitting or corrosion over time? Wood-composite laminates are the ideal standard for most workbench tops, but once damaged they become difficult to clean. Rhino supplies protective mats which are ideal for protecting your workbench investment whilst also providing the ideal cutting surface.
What Height Should A Workbench Be?
Workbench height is important for employee health, comfort and efficiency. This is especially important for those doing repetitive or detailed tasks, as poor posture for long periods causes skeletal-muscular disorders.
Stand-up workstations are generally 900mm high as this matches the average person's height. Of course, very few people are exactly average in height! So how do we provide an accessible workstation for staff of diverse heights?
Adjustable seating is one way to address this but might not be practical or desirable in situations where workers need to move around frequently. Height-adjustable workbenches are an ideal solution, allowing the working height to be set from 900mm – 1,100mm depending on task and worker height.
Workbench Storage and Accessories
A vital part of workstation efficiency is having the right tools and materials to hand. Large workbenches often need storage for sheet or roll material, and having these incorporated into the bench keeps them accessible.
A bench undershelf provides flat storage for large-format signage and print media, whilst benches with roll dispensers are ideal for cutting material off the roll.
Conclusion
In conclusion, choosing the best workbench is a big decision, which will be unique to your needs. A welded steel metal table frame gives the best weight-bearing capacity, stability and durability. Heavy-duty wheels add mobility, whilst adjustable height aids safe and comfortable working.
By carefully evaluating each of the above factors and considering your specific requirements, you can find a Rhino workbench that is well-suited to your own workspace, projects, and working style.
Choosing a workbench from Rhino gives you peace of mind that you have quality, safety, durability and function covered without compromising your needs. Speak to a workbench specialist today about your company's requirements.